3.0HP Home Multifunctional Treadmill
(Hits:68)
1.DC Motor: 3.0HP;
2.PWM system, speed range:1.0-18km/h;
3.Auto incline range:1-15%;
4.7''LCD screen display:speed,incline,distance,time,calorie,hear rate;
5.Program:12 pre-set programs can be chosen freely;
6.Heart rate control:Hand-held heart rate,speed±&incline shortcut keys;
7.Running belt size:L:260cm W:43cm Thickness:2.0mm;
8.Occupancy areas :L:168cm W:73cm H:139cm;
9.User max weight:130KGS;
Item No.:KW--705
3.0HP Home Multifunctional Treadmill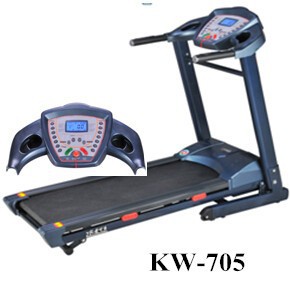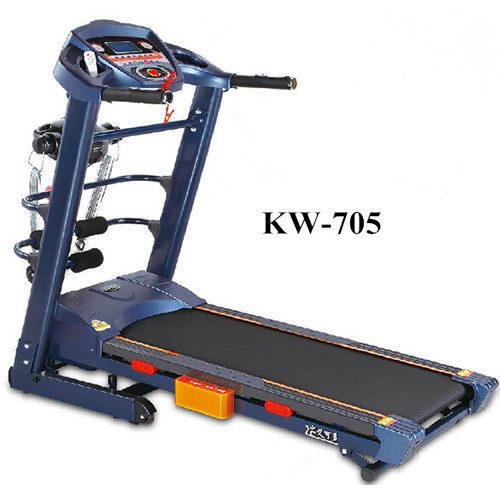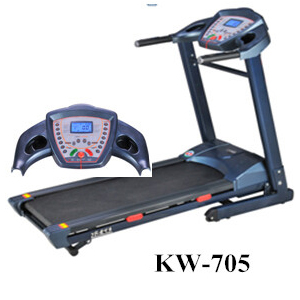 *Noise and Space:
The treadmill needs to work in your space. How noisy is it? If you plan to watch TV or listen to music, you need to be able to hear those over the treadmill itself. A model that looks small in the store can turn into an elephant in your spare room. Check its size when folded or stored and test how easy it is to move.
Manual Treadmills vs. Motorized Treadmills
Due to the difference in cost, many people are tempted to buy a manual treadmill instead of a motorized treadmill. But manual treadmills have many drawbacks vs. their motorized cousins. They are often difficult to get moving without using an extreme incline, and once moving you can't change the incline. The low price also often means less sturdy construction.

*Treadmill Bargains and Alternatives:
If a new treadmill breaks your budget, you have many alternatives to find good treadmills at bargain prices. There are also many ways to use somebody else's quality treadmill. Browse my tips on how to use a good treadmill for fewer dollars -- or even for free. You should also try elliptical trainers. They give a lower impact workout while exercising both your upper and lower body. Top quality elliptical trainers are a similar price to bargain treadmills, so you get more for less.
*Folding Treadmills vs. Non-Folding:
In the last several years, considerable design improvements have contributed to folding models being comparable to the stationary treadmills. Look for stability, ease of folding, weight capacity, and how easy it is to move.
Amanda Huang

Amanda Huang